Gingerbread Men Recipe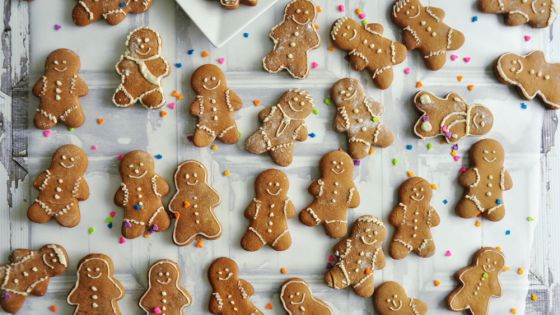 Ingredients:
3 cups flour
1 ½ tsp baking powder
¾ tsp baking soda
¼ tsp salt
1 tsp ground ginger
1 ¾ tsp ground cinnamon
¼  tsp ground cloves
6 Tablespoons butter
¾ cup dark brown sugar
1 large egg
½ cup molasses
2 tsp vanilla extract
1 tsp lemon zest
Directions:
In small bowl, whisk together flour, baking powder, baking soda, salt, ginger, cinnamon, and cloves until well blended. In a large bowl (I use a kitchenaide) beat butter, brown sugar, and egg on medium speed until well blended. Add molasses, vanilla and lemon zest and continue to mix until blended. Gradually stir in dry ingredients until blended and smooth. (You can either refrigerate dough or just go for it.  I just went for it.  Aint nobody got time to let yummy cookie dough sit in a fridge) J
Preheat oven to 375. Prepare baking sheet by lining with parchment paper. Roll dough onto floured surface and cut into desired shapes.  I leave the dough thicker so its soft and chewy! Bake for 7-10 minutes, one pan at a time.
I make a powder sugar, lemon zest and milk glaze, and I dunk them in after they have been cooled.