Key Lime Pie Sugar Cookies
(recipe adapted from The Idea Room)
Ingredients
1

cup

Butter

room temperature

3/4

cups

Vegetable Oil

1 1/4

cups

Sugar

3/4

cup

Powdered Sugar

2

Tablespoons

Water

1 tsp Lime Juice
1Tsp Lime Zest

2

Eggs

1/2

teaspoon

Baking Soda

1/2

teaspoon

Cream of Tarter

1

teaspoon

Salt

5 1/2

cups

Flour
Cream Cheese Frosting
1/2

cup

butter

room temperature

3/4

cup

cream cheese


2

cup

Powdered Sugar

1 tsp lime juice
1Tbsp Lime Zest
Milk to right consistency
Instructions
Cream together Butter, Vegetable Oil, Sugars, Water, and Eggs.

Combine dry ingredients and slowly add to butter mixture.

Mix until everything is combined. Your dough should be a little crumbly and not sticky at all.

Roll a golf ball sized ball of dough and place it on your cookie sheet

Put 1/4 c of sugar and a pinch of salt in a dish (this is in addition to the sugar and salt listed above.) Stick the bottom of a glass in it. This is going to be your cookie press.

Firmly press it into the center of your dough ball. You want your dough to spill out over the sides of the glass. If there is a lip its even better.

Bake at 350 degrees F for 8 minutes. They should just barely be browning on the bottom. Move cookies to a cooling rack. Once they are cool put them in the fridge.
Frosting:
Start by creaming together butter and cream cheese and salt. Slowly add powdered sugar. When it gets so thick its not frosting like add a splash of milk.

Alternate this process until your frosting is the desired consistency. Add 1 drop of red food coloring and whip on high for 1 minute.

Keep cookies in a sealed container until they are ready to serve.

Frost right before serving.
Carmelita bars
(adapted from thebakerupstairs.com)
32 caramel squares, unwrapped
1/2 cup heavy cream
3/4 cup butter, melted
3/4 cup brown sugar, packed
1 cup flour
1 cup rolled oats
1 teaspoon baking soda
6 ounces semisweet chocolate chips
Combine caramels and cream in a small saucepan over low heat. Stir until completely smooth; set aside. In a separate bowl, combine melted butter, brown sugar, flour, oats, and baking soda. Pat half of the oatmeal mixture into the bottom of an 8×8″ pan. Bake at 350 degrees for 10 minutes. Remove pan from oven and sprinkle chocolate chips over crust. Pour caramel mixture over chocolate chips. Crumble remaining oatmeal mixture over caramel. Return to oven and bake an additional 15-20 minutes, until the edges are lightly browned. Remove from oven and cool completely before cutting.
*A stint in the fridge will help them cool off if you're pinched for time. They shouldn't be served cold, but all of that molten caramel takes a long time to cool down. They should be stored and served at room temperature.
To make a 9×13″ version, simply double the amounts.
salted Carmel Butter Bars

(Image from Cookies and Cups.  I can bake but my photo skills are not on point 🙂
Ingredients
For the Crust:
1 lb. salted butter room temp
1 cup sugar
1½ cups powdered sugar
2 tsp vanilla
4 cups flour ( I love blue Bird Flour, its in sacks)
For the Filling:
1 bag (14 oz.) caramel candies (about 50 individual caramels), unwrapped ( i use the unwrapped balls, I use the full bag)
1/3 cup whipping cream
1/2 teaspoon vanilla
1 tablespoon coarse sea salt
---
Instructions
To Make the Crust:
Preheat oven to 325°.
In a large bowl, combine the butter and sugars. Using mixer on medium speed, beat together until creamy. Add the vanilla and beat until combined. Sift the flour into the butter mixture and beat on low speed until a smooth soft dough forms.
Spray a 9×13 inch baking pan lightly with non-stick cooking spray. Press one-third of the dough evenly into the pan to form a bottom crust. Wrap remaining dough in plastic wrap and chill in refrigerator.
Bake crust until firm and the edges are a pale golden brown approx 20 minutes. Transfer pan to a wire rack and let cool about 15 minutes.
To Make the Filling:
While the bottom crust is baking and the remaining dough is chilling, make the caramel filling. Place the unwrapped caramels in a microwave-safe bowl. Add the cream. Microwave on high for 1 minute. Remove from the microwave and stir until smooth. If caramels are not completely melted, microwave on high for 30-second intervals, stirring after each interval, until smooth.
Once the caramel is melted add in your ½ tsp vanilla and stir until combined.
Pour the caramel filling over the crust. If you are going to salt the caramel sprinkle it on caramel layer now.
Remove the remaining chilled dough from the refrigerator and crumble it evenly over the caramel.
Return the pan to the oven and bake until the filling is bubbly and the crumbled shortbread topping is firm and lightly golden, about 25 – 30 minutes.
Let cool before cutting into squares.
If you want thicker bars, double the recipe!
---
Notes
Store airtight for up to 5 days
Snicker-doodle Blondie Bars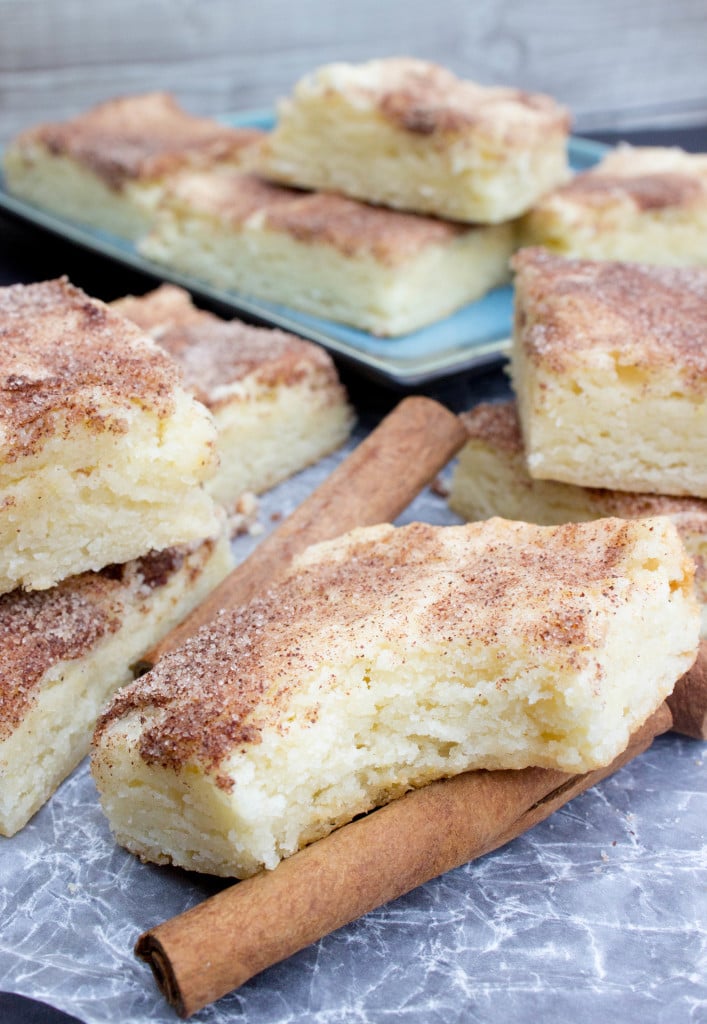 Ingredients
1

cup

butter

melted (227g)

2

cups

granulated sugar

400 g

2

Tablespoon

milk

(30ml)

2

large eggs

2 3/4

cups

all-purpose flour

(345g)

1

teaspoon

baking powder

1/2

teaspoon

cream of tartar

1/4

teaspoon

salt
Topping
2

Tablespoon

sugar

1 1/2

teaspoon

ground cinnamon
Instructions
Preheat oven to 350F.

Grease and flour (or line with parchment paper) a 13×9 pan, and set aside.

In a large bowl, combine melted butter, sugar, and milk.

Add in eggs, stir until combined.

In a separate bowl, combine flour, baking powder, cream of tartar and salt.

Stir into the butter mixture until combined.

Pour batter into prepared 13×9 pan.

In a small bowl, combine 2 Tablespoons sugar and 1½ teaspoons cinnamon. Sprinkle over the batter in the pan.

Bake on 350F for 25-28 minutes.
Recipe adapted from Sugarspunrun.com
Orange Creamsicle Cookies
(Photo and recipe from The-girl-who-ate-everything.com)
Ingredients
2 1/2

cups

all purpose flour

3/4

teaspoon

baking soda

1/2

teaspoon

salt

1

cup

2 sticks butter, softened

1/2

cup

sugar

1/2

cup

firmly packed brown sugar

1

large egg

1

teaspoon

vanilla extract

1/2

teaspoon

orange extract

2

tablespoons

orange zest

(for me that was the zest of 2 oranges)

2

cups

white chocolate chips
Instructions
Preheat oven to 375 degrees.

In a small bowl, combine flour, baking soda, and salt; set aside.

In a large bowl, cream butter and sugars until light and creamy. Beat in egg, vanilla and orange extract until smooth. Gradually add flour mixture until combined. Stir in orange zest and white chocolate chips. Drop rounded teaspoonfuls onto parchment lined cookie sheets. Do not flatten cookies; it will make them dry. Bake 8 – 10 minutes or until golden brown around edges. Do not overcook! Cookies will be plump. Cool for several minutes on cookie sheets before transferring to rack to cool completely. Store in airtight container.
Read more at https://www.the-girl-who-ate-everything.com/creamsicle-cookies/#Qberg0qP1LcM8u2f.99
Gingerbread Men Recipe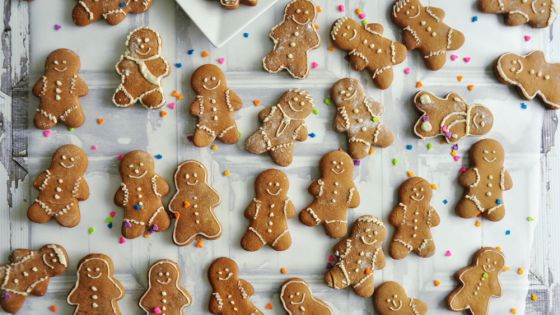 Ingredients:
3 cups flour
1 ½ tsp baking powder
¾ tsp baking soda
¼ tsp salt
1 tsp ground ginger
1 ¾ tsp ground cinnamon
¼  tsp ground cloves
6 Tablespoons butter
¾ cup dark brown sugar
1 large egg
½ cup molasses
2 tsp vanilla extract
1 tsp lemon zest
Directions:
In small bowl, whisk together flour, baking powder, baking soda, salt, ginger, cinnamon, and cloves until well blended. In a large bowl (I use a kitchenaide) beat butter, brown sugar, and egg on medium speed until well blended. Add molasses, vanilla and lemon zest and continue to mix until blended. Gradually stir in dry ingredients until blended and smooth. (You can either refrigerate dough or just go for it.  I just went for it.  Aint nobody got time to let yummy cookie dough sit in a fridge) J
Preheat oven to 375. Prepare baking sheet by lining with parchment paper. Roll dough onto floured surface and cut into desired shapes.  I leave the dough thicker so its soft and chewy! Bake for 7-10 minutes, one pan at a time.
I make a powder sugar, lemon zest and milk glaze, and I dunk them in after they have been cooled.
Snickerdoodle Cookies
(just like my Momma made)
(photo from tastesbetterfromscratch.com)
Ingredients:
1 cup shortening (I use the pre-measured sticks from Crisco, they are in the oil section on the baking isle)
1 1/2 cups sugar
2 eggs
2 3/4 cups flour
1 tsp salt
1/2 tsp baking soda
Directions:
Cream together shortening and sugar.  Add eggs. In separate bowl sift together flour, cream of tarter, salt and baking soda.  Add to shortening mixture. dough will be stiff.  Put 1 cup sugar and 2 tsp cinnamon in a bowl and mix.  Roll dough into balls and drop into cinnamon/sugar mixture. once coated put them on a ungreased baking sheet.  Bake at 350 for 8 minutes.  Do not over bake.
Lemon Swig Sugar Cookies
(photo and recipe from therecipecritic.com)
Ingredients
1 Cup Butter, softened
¾ C Vegetable Oil
1¼ C Sugar (plus ¼ cup reserved)
¾ C Powdered Sugar
2 T Water
1 teaspoon lemon juice
1 Tablespoon lemon zest
2 Eggs
½ t Baking Soda
½ t Cream of Tarter
1 t Salt
5½ C Flour
Lemon Cream Cheese Frosting:
1 (8 ounce) package cream cheese,
softened
¼ cup butter
2 tablespoons lemon juice
2 teaspoons lemon zest
1 teaspoon vanilla extract
5 cups confectioners' sugar
Instructions:
Preheat oven to 350 degrees. In a medium sized mixing bowl, combine flour, baking soda, cream of tarter, and salt. Set aside.
In a large mixing bowl, cream together butter, vegetable oil, sugar (1¼ C), powdered sugar, and water. Add in lemon juice and lemon zest.. Add in eggs.
Slowly add in flour mixture until combined. Roll the dough into golf sized balls and place onto a non stick cookie sheet.
To give the cookies their signature rough edge, dip the bottom of a glass into the reserved ¼ cup sugar and press onto the cookie ball to flatten the cookie. You still want the cookie to be thicker so don't press them to thin.
Bake for 8-10 minutes or until the bottom is lightly brown. The cookies stay soft so do not over bake.
To make the lemon cream cheese frosting: Beat cream cheese, butter, lemon juice, lemon zest, and vanilla together until smooth and fluffy. Add confectioners' sugar. Beat until creamy.